Walsh Graphics 2018 / 2019 Catalogue
Short Description
The new Walsh Graphics 340+ page Catalogue is packed with hundreds of new products! Find out how to get your copy of the new Walsh Graphics 2018 / 2019 Catalogue below!
Product Details
Walsh Graphics 2018/2019 Catalogue
The new Walsh Graphics 2018/2019 Catalogue:
is packed with brand leaders such as, Arlon, Ritrama, 3M, Cover Styl', and Ultima Displays
introduces exciting, new brands such as Digi-Line Vinyl
has an entire 'new-look' with hundreds of new high-end display products
introduces an entire new section dedicated to Architectural Film
contains an expanded tools sections with even more choice at great prices!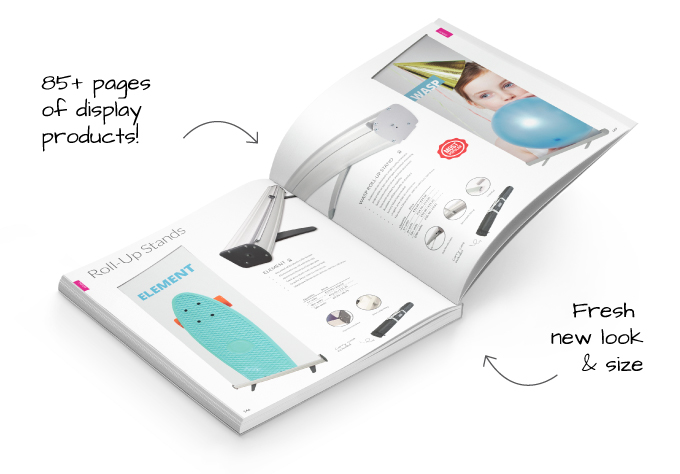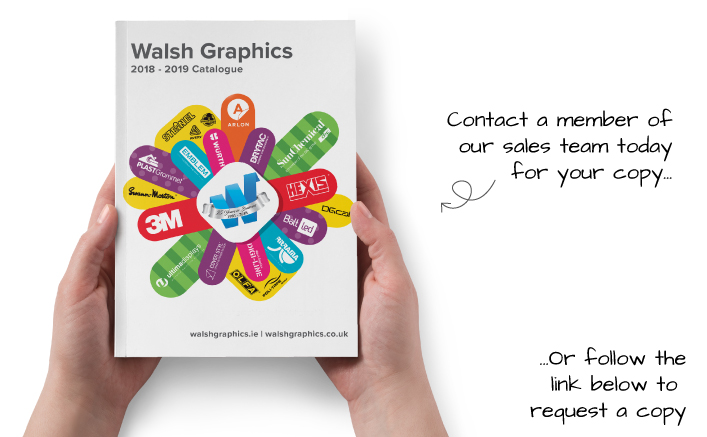 Delivery Info
Same Day Delivery Ireland
Order before 10.30am to avail of same day delivery in Cork and Dublin.
Next Day Delivery Ireland
Order before 5pm (on a business day) for next day delivery*
*excluding weekends and bank holidays and provided that the product is a stock item.
Delivery Charges Ireland:
Free carriage on orders over €350.00 ex vat

€12.50 on orders under €350.00 ex vat

€50.00 per priority 48hr delivery service
We cannot guarantee an exact delivery schedule but we will do our best to help with a specific request. Please contact us at sales@walshgraphics.ie.
We are unable to process orders for sheet material online. If you wish to purchase corriboard, foamboard or aluminium composite, please contact our head office on +353 21 4524744 for further information.
Collections
If you wish to collect your order, our warehouse is open for collections on business days from 9am to 1pm and 2pm to 5pm.
Where possible, please place your order in advance of arrival to reduce waiting time, especially if you require rolls to be slit or metres wound off.
Click here for directions to our Cork and Dublin depots.
UK Deliveries
Our delivery charges to anywhere in the UK are:
Free carriage per delivery on orders over £315.00 ex vat

£11.13 for orders up to £315 ex vat
Transit time: 2 - 3 Days
Deliveries to Mainland Europe:
Transit Time:
3 - 4 days: Belgium, France, Germany, Luxenburg, Netherlands.
4 - 6 days: Austria, Czech Republic, Denmark, Italy, Slovakia, Spain.
5 - 8 days: Estonia, Finland, Hungary, Latvia, Lithuania, Poland, Portugal, Slovenia, Sweden.
Deliveries to: Switzerland, Liechenstein, Croatia, Bosnia, Norway, Serbia and Montenegro
From £50.00 (includes Custom Clearance Charge)
Transit Time:
4 - 5 days: Switzerland, Liechenstein.
5 - 8 days: Croatia: Bosnia, Norway, Serbia & Montenegro.
Rest of the World: Please contact us to confirm shipping cost.
Damages
Any loss, damage or shortages must be reported to us within 24 hours of delivery. Please quote your order number in all correspondence.
Please ensure the goods are checked upon arrival before signing (or goods are signed for as unchecked). Any claims made as a result of courier damage cannot be pursued if this procedure is not followed.
We will not be liable for any damage to goods returned to us via another courier if goods have not been checked upon receipt from us and reported immediately.
In the case of receiving damaged goods, these must be signed for upon delivery as "Unchecked" or "Damaged" in order to process a claim.
Backorders
If for any reason we are unable to fulfil your order, or part of your order, we will contact you with details of anticipated delivery dates and an option to cancel your order if you would rather not wait.